Research article

Open Access

Open Peer Review
This article has Open Peer Review reports available.
Dynamic Consent: a potential solution to some of the challenges of modern biomedical research
BMC Medical Ethics
BMC series – open, inclusive and trusted
2017
18:4
Received: 9 June 2016
Accepted: 26 December 2016
Published: 25 January 2017
Abstract
Background
Innovations in technology have contributed to rapid changes in the way that modern biomedical research is carried out. Researchers are increasingly required to endorse adaptive and flexible approaches to accommodate these innovations and comply with ethical, legal and regulatory requirements. This paper explores how Dynamic Consent may provide solutions to address challenges encountered when researchers invite individuals to participate in research and follow them up over time in a continuously changing environment.
Methods
An interdisciplinary workshop jointly organised by the University of Oxford and the COST Action CHIP ME gathered clinicians, researchers, ethicists, lawyers, research participants and patient representatives to discuss experiences of using Dynamic Consent, and how such use may facilitate the conduct of specific research tasks. The data collected during the workshop were analysed using a content analysis approach.
Results
Dynamic Consent can provide practical, sustainable and future-proof solutions to challenges related to participant recruitment, the attainment of informed consent, participant retention and consent management, and may bring economic efficiencies.
Conclusions
Dynamic Consent offers opportunities for ongoing communication between researchers and research participants that can positively impact research. Dynamic Consent supports inter-sector, cross-border approaches and large scale data-sharing. Whilst it is relatively easy to set up and maintain, its implementation will require that researchers re-consider their relationship with research participants and adopt new procedures.
Keywords
Dynamic consent
Participant engagement
Research communication
Ethics
Biobank
Clinical trials
Clinical research
Software tools
Background
Conducting biomedical research is essential to increase our understanding of biological and molecular mechanisms underlying disease, test the efficiency of new drugs, interventions and devices, and move toward personalised medicine [1]. Biomedical research requires the continuous collection of biological samples, health and outcome data from representative samples of patients and populations and the follow up of these groups over time [2]. As innovations in technology develop at exponential speed, researchers need to have flexibility in the conduct of their research to be able to react quickly to ongoing developments and accelerate medical discovery and the development of new treatment strategies. However, traditional approaches to the planning and conduct of biomedical research projects present a number of challenges.
First, recruiting enough participants, or reaching out to the population of interest, is often difficult [3, 4]. This is particularly true in genetic research which experiences lower recruitment rates than other types of biomedical research [5]. Participant recruitment may be hindered by a lack of manpower or funding to organise large information-giving and enrolment campaigns. It may also be inhibited by clinical staff's limited familiarity or understanding of research objectives and fears that it will interrupt patient care [6]. Furthermore, patients may not understand the objectives of the research, may not be willing or able to travel to the research centre [7], or may not speak the language used by researchers [8].
Second, obtaining informed consent from research participants can be demanding. The objective of the informed consent process is to ensure that research participants understand the aims and risks of the research and participate in the research voluntarily with this knowledge. However, research participants often do not understand the content of the information sheet or the consent form for the study, particularly if the consent form is lengthy and includes complex terminology [9, 10]. While some participants may be satisfied with receiving information about the research project only once during the recruitment phase, others may want to go through the information several times and may have additional questions or concerns. Assessing the participants' health literacy and understanding of the research objectives and implications can be difficult and time-consuming [11]. If new research needs arise that were not foreseen and included in the original consent document, collecting new consent from research participants may be expensive and burdensome, particularly if additional consent requires face-to-face interaction or the mailing of paper consent forms. If multiple consents are collected over time, keeping records of these consents can be complicated, particularly in cohort studies, or in projects spanning several years and multiple iterations where paper consent forms are stored in several institutions [11].
Third, retaining research participants in projects is often challenging [8, 12]. Participants may drop out because they experience changes in their condition, respond adversely to the intervention under investigation, move away from the study area or lose interest in the study. Participant drop-out jeopardises the quality of the data, the significance of research findings, and the conduct of follow-up studies [13]. In addition, clinical researchers often need to collect patient-reported outcome data over time to better understand disease symptoms and the impact on disease burden [14]. Researchers conducting population-based health surveys may want to send new health questionnaires to their participants. Regularly collecting additional data from participants may be administratively demanding and costly, particularly if paper forms have to be sent in the mail.
A number of innovative strategies have been developed which aim to offer practical solutions and tools to facilitate the processes described above. For instance, clinical research projects have developed in-home clinical trial support programs to enable patients who cannot travel long distance to clinical sites to participate in research [12]. Projects are coordinating efforts between research teams and infrastructure support at clinical sites to improve recruitment rates [15]. The use of new technologies such as mobile phones and applications is also explored to facilitate ongoing data collection [16]. In addition, large efforts have been made to investigate designs for informed consent that both facilitate the conduct of biomedical research and protect the interests of research participants. A strategy that has received considerable attention is the use of broad consent. Broad consent is an alternative to the more customary specific consent; many consider specific consent too difficult to apply in biobank research where biological sample collections are built as research resources for multiple uses [17]. Definitions of broad consent vary and span from "consent to a wide (broadly specified) range of options" [18] to consent to "an unspecified range of future research subject to a few content and/or process restrictions" [19]. In general, broad consent can be described as a tool that enables research participants to consent to a variety of research projects. Blanket consent, that is consent to an unlimited range of options, has also been suggested as a potential strategy to facilitate the conduct of research [18]. More recently, meta-consent, an approach which enables individuals to express preferences regarding which type of consent they want to give for which type of research (for example, blanket consent to research on biological samples, specific consent to research led by industrial actors) has been described as a solution that may positively affect people's willingness to participate in research [20].
In principle, broad and blanket consent may facilitate the conduct of research as researchers do not have to consent research participants each time new research questions or situations arise. However, there is some controversy regarding the extent to which these approaches to consent enable research participants to be truly informed about the objectives and details of the research and are respectful of the participants' values and personal preferences [18, 21]. Furthermore, it remains unclear whether broad consent may help address some of the challenges described earlier. For instance, it is unlikely that the use of broad consent facilitates reaching out to populations that would not normally participate in research because they do not have easy access to research facilities or do not understand why they should participate. In addition, the use of broad consent may not provide any protection against unforeseen events such as regulatory changes. The difficulties that the Swedish population biobank Lifegene encountered are illustrative of this issue. Although the biobank had already recruited many participants and collected their broad consent, in 2013, the Swedish Data Inspection Board decided to temporarily suspend the biobank's activities as it considered that broad consent did not describe the biobank research in a way that would satisfy the requirements of forthcoming regulation [22, 23]. Similarly, it is unclear whether meta-consent may positively impact participant retention or facilitate ongoing health data collection in research projects.
Another strategy to facilitate the conduct of biomedical research while protecting the interests of research participants is Dynamic Consent. Dynamic Consent is a term used to describe personalised, online consent and communication platforms [3]. Such platforms are primarily designed to achieve two objectives: 1) facilitate the consent process and 2) facilitate two-way, ongoing communication between researchers and research participants. It should be noted that Dynamic Consent is not the same as specific consent. Rather, it can be setup to accommodate different types of consent depending on the research objectives and context [24]. For instance, biobank research participants may give their broad consent to research through a Dynamic Consent platform. Later in time they may use the platform to give their new consent to new research activities that were not foreseen in the original consent (e.g. feedback of genetic research results), or they may alter their consent choices in response to their changing circumstances [3]. Although a central objective of Dynamic Consent is to offer some flexibility to the consent process, Dynamic Consent platforms may also be used for communication in both clinical and population-based research projects. For instance, researchers may use the platform to give participants regular updates about the research, or ask participants to upload new health data throughout the duration of the research project. Research participants may use the platform to set up their preferences regarding access to their health data by third parties or how often they would like to be contacted by the researchers. In recent years, several clinical and population-based research projects have tested online Dynamic Consent platforms [25–31], initiatives welcomed by research participants [29, 32]. Also in health care settings, projects are exploring the use of online platforms for patient consent to the re-use of electronic patient records for research [33].
In the literature, there is emphasis on discussing how Dynamic Consent may enhance the research participants' right to make autonomous choices regarding their participation in research, improve their comprehension of the consent process and promote their engagement in the research endeavour [11, 24, 34–37]. Less attention has been given to exploring specific ways that Dynamic Consent may facilitate the conduct of medical research. The key purpose of this paper is to explore how Dynamic Consent can help researchers address the challenges encountered (in population-based and clinical research) when inviting individuals to participate in research and following them up over time in a continuously changing environment.
Methods
In October 2015, the Centre for Health, Law and Emerging Technologies (HeLEX) [22] at the University of Oxford and Working Group 1 of the COST Action CHIP ME IS1303 "Citizen's Health through public-private Initiatives: Public health, Market and Ethical perspectives" [23] (a European Union Framework which brings together European experts) conducted an interdisciplinary two-day workshop at the University of Oxford to share experiences of implementing Dynamic Consent within research projects. Representatives from a range of disciplines contributed to the workshop including ethicists, lawyers, clinicians, researchers, research nurses and research participants. First, the workshop members discussed Dynamic Consent approaches that are implemented in clinical and biobank research projects and identified key elements in these projects that characterise Dynamic Consent. Several workshop members reported how Dynamic Consent had been designed and applied in their projects. Second, the workshop members mapped a process flowchart describing the main tasks that researchers have to complete in order to include and follow up individuals in research projects. For each task, the workshop members identified challenges encountered that may delay or render task completion difficult. Then a discussion followed as to how Dynamic Consent may facilitate the conduct of each task, particularly in terms of increased requirements for transparency, information-sharing and participant engagement. The workshop members were made aware that the findings from the workshop would be published and were offered the opportunity to contribute to the writing of this paper. Notes were taken during the workshop; the workshop organisers summarised and analysed the data using a content analysis approach with an inductive approach [38]. First, the notes were sorted and the data categorised according to the main tasks that had been listed in the process flowchart. Then the data were condensed to reflect the main points made by the workshop members. A preliminary paper summarising the workshop findings was shared with workshop members for validation. Their comments and corrections were integrated into the results. This research did not require informed consent or approval from an ethics board.
Results
Discussions at the workshop demonstrated that Dynamic Consent can provide practical solutions to the conduct of four main tasks: participant recruitment, collection of informed consent, participant retention and consent management as summarised below and described in Fig.
1
. For each task, we provide concrete examples from research projects to describe how Dynamic Consent can address these challenges.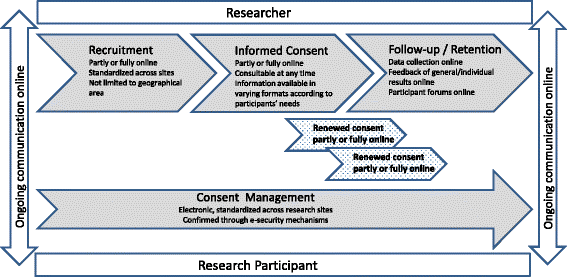 Discussion
The use of Dynamic Consent may facilitate the conduct of specific research tasks, positively impact recruitment and retention and simplify the collection and management of participants' consent. It may also potentially contribute to reducing costs as many activities (such as sending out information to research participants in the mail) are conducted online, permit greater operability across different organisations if built using recognised national standards [11] and provide researchers with a practical tool to meet forthcoming legal requirements for transparency and precise information-giving to participants [61]. Importantly, Dynamic Consent may offer an opportunity for researchers and research participants to engage in long-term dialogue in a way that goes beyond the traditional one-off consent process, which may benefit both parties. Our results are supported by recent recommendations to explore online tools and multimedia interventions as these have the potential to improve consent processes and increase participants' level of comprehension of the research [62, 63]. Establishing a culture of ongoing communication between researchers and research participants is increasingly demanded by patient advocacy groups [64] and research participants [53] who would like to be consulted about third party access to their data [51, 65] and the management of genetic research results [66]. Increased researcher-research participant communication is also encouraged by research funders and policymakers to improve the usefulness and accuracy of research, facilitate the development of research projects within areas of medicine that have been given little priority (such as rare diseases) and accelerate the translation of research findings to clinical practice [1, 67]. As an illustration, the recently launched Precision Medicine Initiative Cohort Program [68] which aims to build a national cohort of one million participants across the United States, recommends the development of an online platform for "dynamic information sharing" that enables participants to "actively engage in an informed, voluntary, and ongoing manner", including setting consent preferences or consulting information whenever needed, and providing "requested data when it is convenient for them" [69].
Dynamic Consent platforms are still under development and only limited empirical data report experiences from their use or hurdles to their implementation [27, 29, 31, 32]. However, several elements need to be considered by researchers before implementing Dynamic Consent platforms in their project.
Conclusion
Dynamic Consent, through transparent information exchange and ongoing consent, aims to reinforce the informational, societal and relational value of research and implies a powerful change in the participant's role from passive 'subject' to active 'participant' [74]. With Dynamic Consent, informed consent is not restricted to a functional or legal instrument, but also becomes a social agreement between researchers and research participants [75]. Such change is essential to the creation of new knowledge, the development of new and adaptive research designs, and the realisation of personalised medicine [1]. It may however generate some anxiety in the research community as the active role of participants is sometimes perceived as potentially threatening [36]. Similar concerns were raised when the Harvard Personal Genome Project (PGP) implemented an online platform for Open Consent in 2005 [41]. Open consent means that participants give their consent to unrestricted disclosure of their genotype-phenotype data and are made fully aware of the risks of participation in the project, including loss of confidentiality and privacy through public disclosure or identification [76]. In the project, ongoing communication is maintained with participants to collect knowledge regarding the consequences of participation. Experiences from the first ten years of the project show that ongoing communication is perceived as meaningful both by the research participants and the researchers [42].
When engaging participants in research through a Dynamic Consent platform, researchers need to be open-minded, accept that research participants may raise critical questions and make suggestions, and be prepared to take these into consideration in the design of the research. In return, researchers will benefit from having more engaged, committed and productive participants in their research; such participants are useful as demonstrated by the successful contributions to research made by online communities of patients [77]. Dynamic Consent could provide a tool that enables researchers to fully benefit from increased interaction with participants.
Abbreviations
CHIP ME:

Citizen's health through public-private initiatives: public health, market and ethical perspectives
CHRIS:

Cooperative health research in south tyrol
COST Action:

European cooperation in science and technology
PEER:

Platform for engaging everyone responsibly
PGP:

Harvard personal genome project
Declarations
Acknowledgments
The authors would like to thank all the workshop participants for their fruitful contributions, and Professor Jan Helge Solbakk, University of Oslo, for his comments.
Funding
This article is based upon work from COST Action IS1303 "Citizen's Health through public-private Initiatives: Public health, Market and Ethical perspectives", and is supported by COST (European Cooperation in Science and Technology) (http://www.cost.eu) which funded the workshop. IBL receives support from the National Research and Innovation Platform for Personalized Cancer Medicine funded by The Research Council of Norway (NFR BIOTEK2021/ES495029). HBB receives support from Legal Regulation of Information Processing relating to Personalized Cancer Medicine (LegRegPCM) funded by The Research Council of Norway (NFR BIOTEK2021/238999). MKJ receives support from the Oxford NIHR Musculoskeletal BRU. JK is funded under Wellcome Trust Award 096599/2/11/Z. DM has received funding from the Innovative Medicines Initiative project BT-Cure (grant agreement number 115142–1) and the Biobanking and Molecular Resource Infrastructure of Sweden project, RD Connect FP7 (grant agreement No. 305444).
Availability of data and materials
Notes from the workshop are stored at the University of Oslo and will not be made publicly available.
Authors' contributions
IBL, HJAT, JK and DM organised the workshop, conceived the paper and drafted the first version of the manuscript. IBL, HJAT, SB, HBB, LC, CC, FD, HF, TF, MKJ, EJ, VK, AS, JK and DM participated in the workshop discussions. IBL revised the manuscript according to comments from all authors, and finalised the manuscript. All authors critically read, revised and approved the final manuscript.
Competing interests
The authors declare that they have no competing interests.
Ethics approval and consent to participate
No ethics approval or informed consent was necessary. Participants at the workshop were informed that the results from the workshop would be used to write a paper and were invited to contribute to its production.
Open AccessThis article is distributed under the terms of the Creative Commons Attribution 4.0 International License (http://creativecommons.org/licenses/by/4.0/), which permits unrestricted use, distribution, and reproduction in any medium, provided you give appropriate credit to the original author(s) and the source, provide a link to the Creative Commons license, and indicate if changes were made. The Creative Commons Public Domain Dedication waiver (http://creativecommons.org/publicdomain/zero/1.0/) applies to the data made available in this article, unless otherwise stated.
Authors' Affiliations
(1)
Centre for Medical Ethics, Institute of Health and Society, University of Oslo, Blindern, Oslo, Norway
(2)
Norwegian Cancer Genomics Consortium, cancergenomics.no, Oslo, Norway
(3)
Centre for Health, Law and Emerging Technologies (HeLEX), Nuffield Department of Population Health, University of Oxford, Oxford, United Kingdom
(4)
UCL Cancer Institute, University College London, London, United Kingdom
(5)
Norwegian Research Center for Computers and Law, Faculty of Law, University of Oslo, Oslo, Norway
(6)
Università degli Studi di Padova, Padova, Italy
(7)
Health Research Authority, London, United Kingdom
(8)
Focus Area DynAge, Freie Universität, Berlin, Germany
(9)
Centre of Bioethical Research & Analysis, NUI Galway, Galway, Ireland
(10)
NIHR Musculoskeletal Biomedical Research Unit, Nuffield Department of Orthopaedics, Rheumatology and Musculoskeletal Sciences, University of Oxford, Oxford, United Kingdom
(11)
School of Medicine, University of Rijeka, Rijeka, Croatia
(12)
Genetic Alliance UK, London, United Kingdom
(13)
Centre for Research Ethics and Bioethics, Uppsala University, Uppsala, Sweden
(14)
Centre for Biomedicine, EURAC, Bolzano, Italy