Research article
Open Access
Open Peer Review
This article has Open Peer Review reports available.
Research in disaster settings: a systematic qualitative review of ethical guidelines
BMC Medical Ethics
BMC series – open, inclusive and trusted
2016
17:62
Received: 25 June 2016
Accepted: 14 October 2016
Published: 21 October 2016
Abstract
Background
Conducting research during or in the aftermath of disasters poses many specific practical and ethical challenges. This is particularly the case with research involving human subjects. The extraordinary circumstances of research conducted in disaster settings require appropriate regulations to ensure the protection of human participants. The goal of this study is to systematically and qualitatively review the existing ethical guidelines for disaster research by using the constant comparative method (CCM).
Methods
We performed a systematic qualitative review of disaster research ethics guidelines to collect and compare existing regulations. Guidelines were identified by a three-tiered search strategy: 1) searching databases (PubMed and Google Scholar), 2) an Internet search (Google), and 3) a search of the references in the included documents from the first two searches. We used the constant comparative method (CCM) for analysis of included guidelines.
Results
Fourteen full text guidelines were included for analysis. The included guidelines covered the period 2000-2014. Qualitative analysis of the included guidelines revealed two core themes: vulnerability and research ethics committee review. Within each of the two core themes, various categories and subcategories were identified.
Conclusions
Some concepts and terms identified in analyzed guidelines are used in an inconsistent manner and applied in different contexts. Conceptual clarity is needed in this area as well as empirical evidence to support the statements and requirements included in analyzed guidelines.
Keywords
DisasterDisaster researchEthics guidelinesResearch ethicsResearch ethics committeeVulnerability
Background
Disasters are defined as phenomena caused by environmental events or armed conflicts that lead to fatalities, injuries, stress, physical damage and economic breakdown of great significance [1, 2]. They occur on a scale that overwhelms local resources, usually requiring external assistance. Improving the effectiveness and efficiency of interventions, and the fairness of their distribution, is crucial in the field of disaster response. For that reason, increasing and improving the scientific evidence for disaster relief is essential. Research is also vital to accurately describe phenomena in disasters, also called humanitarian emergencies or crises [3–5]. Conducting research during or in the aftermath of disasters poses many specific practical and ethical challenges. This is particularly the case with research involving human subjects where data collection must be balanced with the appropriate protection of research subjects. Researchers play a central part in this analysis, as does the system of research ethics review. Such a system, involving research ethics committees (RECs) or institutional review boards (IRBs), is crucial to ensure compliance with existing international and national standards and more general principles of research ethics. The extraordinary circumstances of research conducted in disaster settings require appropriate regulations to ensure the protection of human participants. We decided to perform a systematic qualitative review of existing disaster research ethics guidelines to collect and compare existing regulations. The goal of this study is to systematically and qualitatively review the existing ethical guidelines for disaster research using the constant comparative method (CCM).
Methods
Search strategy
We identified guidelines for research ethics in disaster situations by a three-tiered search strategy: 1) searching two databases (PubMed and Google Scholar), 2) an Internet search (Google), and 3) a search of the references in the documents included from the first two searches. We used the following search terms: (guidelines AND "research ethics" AND (disaster OR emergency OR crisis)). Assessment of eligibility was limited to the first 200 hits retrieved in Google and to the first 250 hits in Google Scholar ordered by relevance in accordance with the methods used in numerous similar systematic reviews. Limits were not placed on the PubMed search.
The screening process is summarized in Fig.
1
. At the first screening stage, one researcher reviewed the document titles. Only documents written in English or translated into English by the guideline developers were included. Titles clearly not related to the topic, as well as scientific and popular articles, books, presentations, and opinion pieces which were clearly not guidelines were excluded. This gave 110 documents which were further screened. The second eligibility screening was performed independently by two researchers. Each researcher evaluated the documents against the inclusion criteria and screened the document's reference list for additional disaster research ethics guidelines. Independent results were compared between the two researchers. When discrepancies existed, a third researcher was involved to resolve any eligibility disagreements.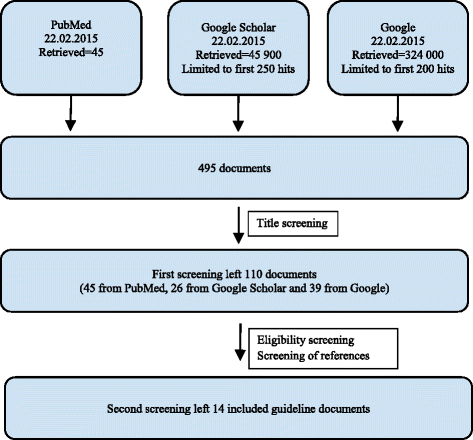 Inclusion/exclusion criteria
Documents were included if they fulfilled all the following criteria:
A.

satisfied our definition of research ethics guidelines: systematically developed statements to assist with the responsible conduct of researchers and other stakeholders in the process of planning, conducting, and reporting research;

B.

was issued by an international or national organization/institution/meeting or developed by a group of researchers or an individual researcher;

C.

research ethics in disaster settings was addressed in the whole document or at least in its own part or section;

D.

addressed at least one of the following types of research: clinical drug research; biomedical research involving physical interventions; public health research; research on health data or biological material; psychological or social sciences research.
Qualitative analysis
We used the constant comparative method (CCM) for analysis of included guidelines [6, 7]. This method of qualitative analysis combines inductive category coding with a simultaneous comparison of all obtained units of meaning. A unit of meaning is defined as a part of the text (e.g., phrase, sentence, several sentences) that "must be understandable without additional information, except for knowledge of the researcher's focus of inquiry" [7]. Open coding was applied as a first step in the coding process to identify units of meaning and to allow categories to emerge from the data. According to CCM, each new unit of meaning is "compared to all other units and subsequently grouped (categorized and coded) with similar units of meaning" [7]. In the process of open coding and comparison, initial categories were changed, merged and omitted when necessary. The second step involved axial coding to explore connections between categories and subcategories. Selective coding as a third step involved selecting the core themes. As a result of selective coding, we identified two core themes emerging from our analysis: research ethics review process and vulnerability.
Results
The research team reached consensus on including 14 full text guidelines for analysis (see Additional file 1: Table S1 for the complete list). The included guidelines were published during the period 2000-2014, with a peak in the number of documents being issued between 2008 and 2010 (8 out of 14 guidelines were published during this period).
Discussion
To increase the quality of disaster response activities and interventions, additional research in disaster settings is needed. Many research papers and other documents note that such research often raises specific ethical challenges that should be addressed and adequate guidance should be developed. Our paper is a descriptive study that reviews the existing ethical guidelines on the ethics of research in disasters. Our aim was to identify, describe and compare disaster research ethics guidelines. A thorough critical analysis of these guidelines is warranted, but would require its own article. However, a limited critical analysis will be presented here, along with some proposals for the development of further ethical guidance for disaster research. Our systematic search identified 14 guidelines (in English) that met our inclusion criteria and are applicable to diverse research activities in different settings. Disaster research covers a wide variety of research types and has several ethically relevant characteristics in common with research in public health emergencies, research in conflict zones, clinical research in emergency settings, research in low- and middle-income countries, or research conducted in resource poor settings.
The scope of the guidelines we found was rather narrow. Most of the analyzed documents did not attempt to give researchers and other stakeholders a comprehensive overview of how to proceed ethically in all types of research and in all types of disasters, but rather focused on particular research activities in specific settings and with distinct populations, such as conflict zones, refugee populations, and humanitarian settings. A tension exists here because disaster research is unavoidably context and time sensitive, making generalized guidance less applicable. While taking this into account, a need remains to develop a more comprehensive set of guidelines based on the ethical issues identified here as commonly relevant to many forms of disaster research. Other issues may need to be included also.
One of the two core themes that emerged was vulnerability of research subjects. CIOMS guidelines refer to vulnerability as "a substantial incapacity to protect one's own interests", and accordingly state that "special provision must be made for the protection of the rights and welfare of vulnerable persons" [22]. In a paper by O'Mathúna, it is noted that vulnerability in a disaster research setting presents additional duties for researchers [5]. Chung et al. proposed that "the individuals and communities affected by declarations of a state of emergency or disaster should be considered 'vulnerable subjects' for the purposes of human subjects research", which would enable the use of current research guidelines in disaster settings [17]. This approach to vulnerability is not based on a lack of decision making capacity, but rather on the effects of the disaster situation on an individual (participant) or a group (of participants).
One of the guidelines included in this review questioned the applicability of the broad approach to vulnerability to disaster settings because it might stereotype and disempower research subjects due to the specificity and complexity of a disaster situation [13]. Although the concept of vulnerability is raised in research to ensure special protection for vulnerable participants, further clarification of the concept would help to guide RECs and ensure appropriate protections are put in place [23, 24]. Empirical assessment is needed to determine if this approach is sufficient to ensure such protection in a disaster setting.
Beyond vulnerability as a core theme in disaster settings, the analyzed guidelines discussed and attempted to raise awareness about specific risks that disaster research might pose for participants. According to the guidelines, issues that require careful consideration in the design of research protocols and during REC review are the higher risk of therapeutic misconception, the potential for exploitation, manipulation, or re-traumatization of research participants, and also the issue of compromising care or relief for research. In some specific disaster situations, for example in armed conflict zones, even the simple presence of foreign researchers could pose an additional risk to the local community. The need to take such risks into account, especially unintended ones, was one of the most frequently raised ethical issues. The actual risks will vary by research study, but further guidance is need on how to identify disaster-specific risks, especially unintended ones. This highlights the importance of involving experienced researchers and local representatives (of participants and their communities, as well as local researchers) in the design, review and implementation of disaster research. Applying specific study designs that ensure community participation in disaster research (e.g., community based participatory research) should be considered, where appropriate, to ensure effective collaboration.
Most guidelines discussed the need for specific procedures for adequate informed consent. Generally, informed consent was seen as a necessary but also challenging requirement in situations where language and cultural barriers could be determining factors, as well as where the decision-making capacities of participants could have been impacted by disasters. A repository of innovative and evidence-based approaches to informed consent would be very valuable.
Nearly all guidelines described the independent and prior assessment of disaster research by an ethics committee as an important ethical requirement. However, we found great heterogeneity in the specific recommendations for organization of the review, for the assessment process, and also for the specificities of the risk/benefit assessments. Some guidelines viewed protocols as ethically acceptable only if they had a direct benefit for participants, and if the research could not be performed in non-disaster settings. In contrast, other guidelines would not prohibit such research if it posed minimal harm and had a considerable benefit to society. Most guidelines considered the usual REC review procedures as unsuitable in disaster settings. Thus, various innovations were suggested regarding the organization of independent ethics review for disaster research. Empirical research is needed to determine the effectiveness of these approaches in improving the ethical dimensions of disaster research so that its ethical review can become more evidence-based. International and national stakeholders responsible for research ethics approval and review should evaluate the appropriateness of their current ethics approval procedures and their suitability for disaster research.
Although mentioned by only one guideline, the proper coordination of research activities with humanitarian relief operations is another important point to consider. In a disaster setting, a proper coordination center might provide a way to involve local researchers and the local community. Such a center could reduce significantly the duplication of research activities, and adequately assess the potential conflict between research and treatment or aid. It could also give proper consideration to ethical perspectives on benefit sharing with the local community and research participants. Many guidelines focus on the ethical issues commonly addressed in research ethics, but the ethical issues distinct to research in resource poor countries or public health practice need to be incorporated more fully.
Some of the guidelines, like those developed by the Working Group on Disaster Research and Ethics, were explicitly based on a retrospective assessment of a concrete disaster research experience [15], while others remained obscure regarding the evidence base and motivations for their development. This highlights the need for more empirical research and evidence regarding the ethics of research in disaster settings. Such an example is the Post-Research Ethics Analysis [25] project that attempts to collect and assess concrete, real world research experiences and ethical challenges faced by researchers and other stakeholders that could further support the development and evaluation of such guidance documents.
Conclusions
Our study found 14 guidelines that might be applied in disaster research settings. Most guidelines referred to vulnerability of research subjects as a central issue, but defined the concept in different ways. The role of RECs was widely acknowledged as challenging in such circumstances. It seems especially important for RECs to consider the potential need for non-standard ethics review procedures for disaster research settings. It is also essential to ensure appropriate dissemination of disaster research results among researchers to share information, and avoid duplication of effort and overburdening of research subjects.
We also found some gaps in the studied guidelines, where further work is certainly needed. Emerging guidelines should include practical suggestions regarding how to weigh conflicting principles, or references to such sources, which could support researchers in their work. Given the tension noted above between generalized and specific approaches to guidance, such practical decision-making tools will be essential. The evidence base of the studied guidelines is rather weak and diverse. Most guidelines were based on some personal experiences, unique situations, or NGO practices. Empirical evidence is urgently needed to support the statements and requirements included in research ethics guidelines. These include the prevalence of ethically significant scenarios, and a typology of ethical issues, including, for example, vulnerability, re-traumatization, or lack of local REC approval. Disaster researchers and the RECs who review their protocols should include projects to evaluate how well the ethical issues are addressed in the research and by following REC recommendations. Particular attention should be given to assessing participants' perceptions of how ethics is addressed in specific projects.
National RECs and international networks of RECs, or their professional associations, should reconsider their standard recommendations and procedures in light of the challenges posed by disaster situations. A comprehensive guideline for disaster research ethics that takes account of the different types of research methods, contexts and populations would be very helpful. Models for proper coordination centres in disaster settings that could be responsive to the identified research ethics challenges could be advantageous. Beyond the clear need for further work on disaster research ethics guidelines, we also see that it is important that specific educational resources for disaster research ethics training be developed and disseminated.
Footnotes
1
This will be corrected in the forth-coming revision of the CIOMS guidelines where Guideline 20 specifically addresses disaster research (http://www.cioms.ch/).
Abbreviations
CCM:

Constant comparative method
CIOMS:

Council for International Organizations of Medical Sciences
IRB:

Institutional review board
MSF:

Médecins sans frontières
REC:

Research ethics committee
WHO:

World Health Organization
Declarations
Acknowledgements
We are grateful for feedback on an early version of this paper from participants at the COST Action IS1201 conference at the University of Split, Croatia (27-28 April 2015) and at a workshop on the ethical challenges for research conducted in disaster settings at the Jagiellonian University, Poland (8-9 February 2016). We thank the two reviewers for their insightful and constructive feedback on the manuscript. We also would like to thank Phyllis Zych Budka for linguistic edits.
Funding
Funding for meetings at which early drafts of this manuscript were developed (described under Acknowledgements) and for open-access publication was provided by COST Action IS1201: Disaster Bioethics (http://DisasterBioethics.eu). Marcin Waligóra was supported by a grant from the National Science Centre, Poland (DEC-2011/03/D/HS1/01695). The funding bodies played no role in the design of the study, the collection, analysis and interpretation of the guidelines reviewed, or the writing of the manuscript.
Availability of data and materials
Not applicable.
Authors' contributions
MW, PK, SM and GM contributed to the study design. MW, PK, SM and GM collected the guidelines. MW, PK and SM performed the coding for analysis. All authors (MW, PK, SM, GM and DO) contributed to the analysis and interpretation of the guidelines. All authors reviewed the manuscript critically and added supplementary text to the manuscript. DO managed the submission process and responded to the peer-reviewers. All authors read and approved the final manuscript.
Competing interests
The authors declare that they have no competing interests.
Consent for publication
Not applicable.
Ethics approval and consent to participate
Not applicable.
Open AccessThis article is distributed under the terms of the Creative Commons Attribution 4.0 International License (http://creativecommons.org/licenses/by/4.0/), which permits unrestricted use, distribution, and reproduction in any medium, provided you give appropriate credit to the original author(s) and the source, provide a link to the Creative Commons license, and indicate if changes were made. The Creative Commons Public Domain Dedication waiver (http://creativecommons.org/publicdomain/zero/1.0/) applies to the data made available in this article, unless otherwise stated.
Authors' Affiliations
(1)
Faculty of Medicine, University of Latvia, Riga, Latvia
(2)
Department of Behavioural Sciences, Faculty of Public Health, University of Debrecen, Debrecen, Hungary
(3)
Department of Medical Humanities, University of Split School of Medicine, Split, Croatia
(4)
Department of Philosophy and Bioethics, REMEDY, Research Ethics in Medicine Study Group, Jagiellonian University Medical College, Kraków, Poland
(5)
School of Nursing and Human Sciences, Dublin City University, Dublin, Ireland